Prairie Palooza Celebrates Texas State Parks 100th Birthday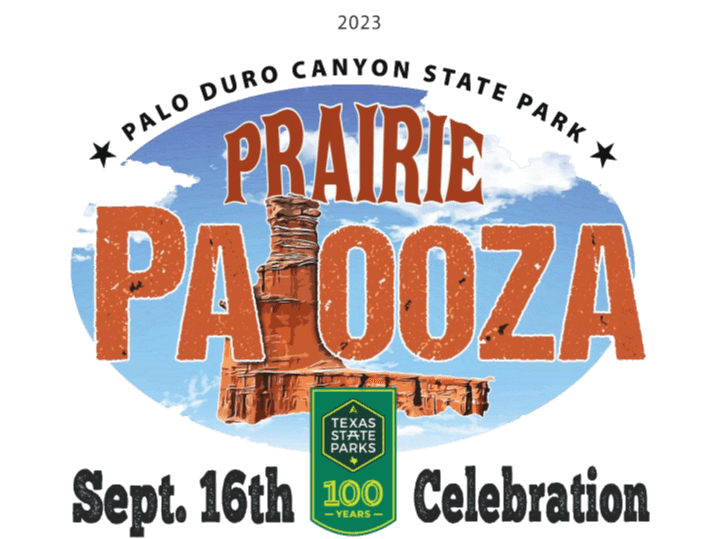 In Palo Duro Canyon State Park
It started with the Texas State Park Board in 1923- a small movement to set aside public parks for future generations. One hundred years later, the Texas State Park system, a highlight of the Texas Parks & Wildlife Department, features 89 parks covering more than 630,000 acres (about half the area of Delaware). 
Prairie Palooza is Palo Duro Canyon State Park's celebration, with events all day September 16. It is sponsored by the Partners in Palo Duro Canyon Foundation, the friends group of Palo Duro Canyon State Park, with cooperation from the Texas Parks & Wildlife Department and Palo Duro Canyon State Park, and numerous organizations across the Texas Panhandle.. 
The day-long celebration starts at 7:30 a.m. with the Sad Monkey Mercantile 5K Race benefiting the Amarillo VA's suicide prevention program. Runners will meet in the Mack Dick Pavilion parking lot for a 7:30 a.m. start. Registration is just $25 and can be completed online at http://getmeregistered.com/SadMonkey5K.  Packet pickup is Sept. 15 from 5-8 pm at the Sad Monkey Mercantile.
At 1 p.m. is the Partners in Palo Duro Canyon Foundation Chuckwagon Lunch at the chuckwagon camp next to the Pioneer Amphitheater parking lot. Fifteen chuckwagons will prepare an authentic chicken fried steak lunch, with all the trimmings, for only $25.   Tickets may be purchased online now at Panhandle Tickets or on site the day of the event.
Participating wagons include Texas Back Then from Vernon, TX; Slim Pickings from Sanger, TX; Wild Cow Ranch from Fritch, TX; Rockin' VX Chuckwagon from Cheyenne Wells, CO; Doc's Wagon & Co. From Chattanooga, OK; Rafter Z Wagon from Stephenville, TX; Five D Ranch from Texarkana, AR; J-D Wagon from Amarillo, TX; Lazy M Chuckwagon from Lamar, CO; Cross Timbers from Mustang, OK; Honey Do Spoiler from Pampa, TX; D-B Wagon from Childress, TX; Little Dixie Chuckwagon from Choctaw, OK; 2M Wagon from Kim, CO and Solano Wagon from Tucumcari, NM.
From 10 a.m. to 6 p.m., more than 15 organizations from across the Panhandle will have booths and demonstrations in the Pioneer Amphitheater parking lot. Confirmed participants include Goodnight Ranch State Historic Site, Texas Forest Service, Old West Riding Stables, Cross Bar Ranch, Amarillo Veterans Administration Suicide Prevention Program, TPWD Game Wardens, Inland Fisheries, Sustainability and Accessibility Programs, Lake Mineral Wells State Park Tipi Program, TxDOT Safety Program, Palo Duro Canyon Heat Advisory Tent and Palo Duro Canyon Trail Team. More groups are expected to confirm participation as the date approaches.
End the day at 6 p.m. with a special performance by the Outdoor Musical Drama Texas on stage in the Pioneer Amphitheater.
Admission to the state park is free all day. Park for free in the Sad Monkey Mercantile parking lot, which is 1 mile outside the entrance to the state park, and hop on a free shuttle bus into the canyon. 
Dress comfortably, wear casual shoes, don't forget your hat and wear sunscreen. 
Want to continue the celebration? Stop by the Sad Monkey Mercantile after the TEXAS performance for a laid-back evening of music, beverages and company.
Need booth information? Contact Juliette Garza, Park Operations Officer at Palo Duro Canyon State Park. (806) 488-2227